How To Play Alibaba Group Holding Ltd (BABA) Stock In 2017?
Don't be a patriot, be a sound investor as BABA stock has much more upside than the market is seeing.
Be careful of the blind patriotism keeping the BABA stock down.
Alibaba has better potential for a broader audience than Amazon.
Use the market profile to understand important value areas to play BABA stock better.
This Blacklisting of Alibaba Group Holding Ltd (NYSE:BABA) has got to be the silliest thing I have ever seen. It is a fine example of irrational markets. This is where you will have analysts and professionals scared and recommending to ignore the Chinese stocks due to Trump's administration. (When have they ever been right?)
Fundamentally, the trends of earnings and revenues are in the correct direction, up. This is also where fundamental analysis completely shows its Achilles heel; it is unable to take into account the behavior of market participants. Thus, you will see analysts and money managers concocting the same trite excuses over and over. They forget that you have to be flexible in the market.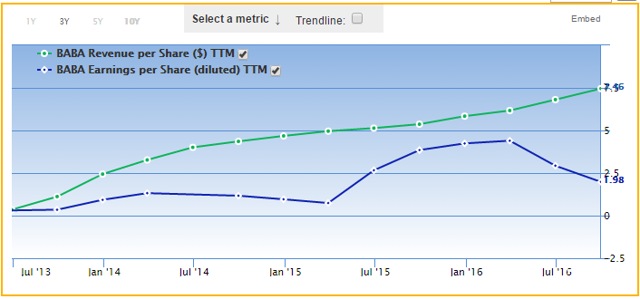 (Source: Gurufocus)
The sad belief is that America thinks the rest of the world needs America to survive. This is World War 2 thinking. It does not fly anymore. If you read plenty of academic international management literature, you will understand what I mean.
Amazon has about 68% of the Market Share in the US. With a population of about 318 million, 216 million out of them could be potential customers assuming everyone has the internet. Amazon has 304 million customers online. Thus, approximately 100 million customers are coming from the rest of the world.
(Source: Statista)
Alibaba, on the other hand, has about 81% market share in the Chinese market. However, in absolute numbers, that is about 434 million people on the retail platform. With a population of 1.35 billion and the brand reputation, Alibaba's absolute number of Chinese customers can increase. Here's why. (See Also: Is Alibaba Group Holding Ltd (BABA) Stock A Buy For 2017?)
Culture
The problem with American companies such as Amazon goes back to cultural differences. What is culture? According to Hofstede, it is a collective mental programming of a group. To understand why Alibaba has a huge market share in China and why it can gain a huge market share in India, we have to understand the societal differences between Western and Eastern culture.
China is a collectivist society. America is an individualist society. In a collectivist society, your employer is like your family. Once you are employed by a company, Alibaba for instance, you will be inclined to help it succeed. In exchange, the company will not fire you and will help you to provide for your family. Hence, there is a huge power distance. Employees view the boss as a father and not questioning his actions. With that type of mindset, it is hard for a company such as Amazon to make any progress in China. It is difficult for Amazon to understand the cultural dynamics of the East.
Also Read: Amazon.com's Real Growth Strategy Holds Multi Year Upside For AMZN Stock
Market Profile
Turning to market profile, we can see where the market participants believe is the fairest price and value. It is around the $80 level. Interestingly, this is where Alibaba consistently finds support and resistance.
I have made the profile focus on the significant swing points to give a clearer picture of how the stock is behaving. This is to help you be in tune with the current occurrences of the market and understand what price areas market participants find the most value in.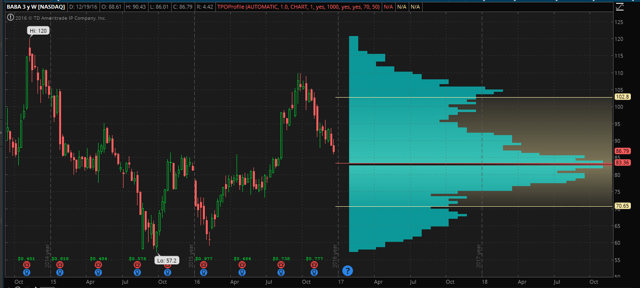 (Source: ThinkorSwim)
Not all price levels are important and the TPO adds an extra layer of analysis by showing you where market participants see value. They currently see value at the $80 level, which is the major distribution area. There is a small distribution that peaks at the 102 level and the 65 level. In order to understand the value areas better, realize that these levels mean that the regions between these levels mean low volume nodes and price will move quickly between those areas because investors do not find value in those areas. Just look back and you will see in the low volume nodes, how price moves quickly through those areas.
Fundamentally, I would buy the heck out of Alibaba. Strategically, I would continue to focus on the irrationality of US investors. Thus, I would recommend quelling expectations and only look to trade this stock from a range bound perspective while observing the daily reactions to the US-China relations making headlines and just accordingly.
Looking for winning stocks? Check out waldorf-kras' top tech stock picks and top auto stock picks which have beaten the broader markets by over 110%.
Is this article helpful ?
---